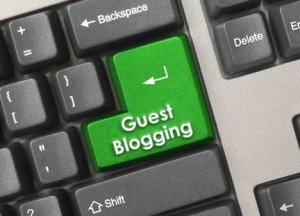 Having guest bloggers post content for your blog can be a great tool to get more readers to visit your site. Typically, guest blogging involves a good deal of cross-promotion, which can be beneficial for all parties involved. Guest blogging has recently become much more common, likely because bloggers are seeing the good things that can come to their blog when they invite others to share.
A guest blogging relationship can be as basic or as involved as you and your guest blogger would prefer. You may just want to invite one or two writers to write posts that are their take on content that you typically share. You may want to consider a long term relationship with one or more guest bloggers, trading posts with them on a weekly, monthly, or quarterly basis. Many bloggers who are willing to contribute to your blog are likely to want you to reciprocate. Again, this can be beneficial for everyone, because interlinking between the two blogs/sites can help your search engine and page ranking.
So how do you find guest bloggers? You can start out simply. Think about some of your favorite blogs to read. Do any of them publish content that is directly related to your business, or that could fit in with your posts? Chances are you can probably think of at least a few blogs like this immediately. Consider emailing the blog's author and inquire about a guest post or blog swap. However, when you write the email, you need to make sure you write a compelling email offer, one that is personal.  You will receive a better response if you do so.